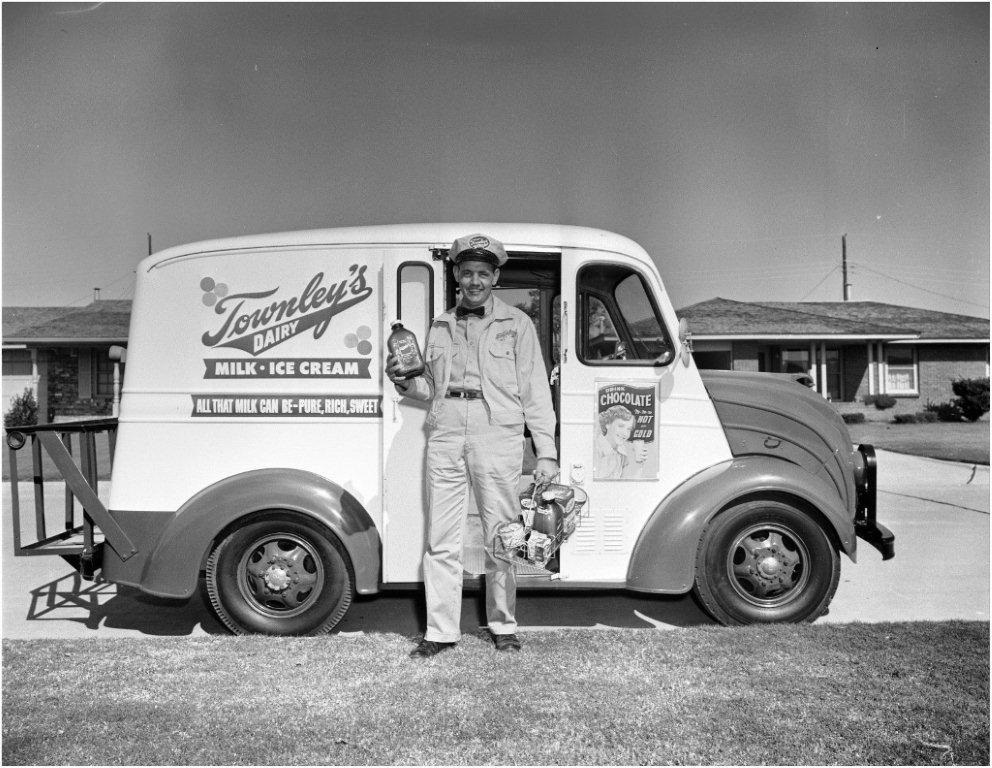 Trucks built by the Detroit Industrial Vehicle Company and its successors, were once as much a part of the American way of life as baseball and mom's apple pie. Chances are your milkman drove a DIVCO. So did the laundry man, the baker, and even the paper boy's route man. From 1926, until 1986, Divco produced multi-stop delivery trucks unlike any others. Only the VW Beetle stayed in production with the same basic model for a longer period of time. Today many people consider Divco as the icon for the multi-stop delivery era.
In 1922, George Bacon, Chief Engineer for the Detroit Electric Vehicle Company, designed a remarkable new milk delivery truck. It could be driven from four positions, front, rear, or either running board. But battery power was no match for winter weather, heavy loads (such as milk) or long days on the city streets. His employer balked at making a gasoline powered truck, so Bacon and other investors formed the Detroit Industrial Vehicle Company (D.I.V.CO.)to produce his invention using a LeRoi gasoline engine. After testing a prototype in 1924, and 25 more prototypes with the Detroit Creamery in 1925, Bacon and his investors were ready to go into business:
This information is paraphrased from the Automotive Encyclopedia:
(1) Detroit Industrial Vehicle Co., Detroit, Mich. 1926-1927
(2) Divco-Detroit Corp., Detroit, Mich. 1927-1934
(3) Continental-Divco Co., Detroit, Mich. 1934-1935
(4) Divco-Twin Truck Co., Detroit, Mich. 1936-1944
(5) Divco Corp., Detroit, Mich. 1944-1956
(6) Divco Truck Div., Divco-Wayne Corp., Detroit, Mich. 1957-1967
(7) Divco Truck Co., Transairco, Inc., Delaware, Ohio 1968-1972
(8) Divco Truck Co., Correct Mfg. Co., Delaware, Ohio 1972-1986
The original Divco milk truck resulted from an electric prototype built by George Bacon, chief engineer of Detroit Electric Car Co. Built in 1922 it had four driver positions, front, rear, and from the running boards on both sides. Three years later a separate company, Detroit Industrial Vehicle Co. was set up to market a gasoline-engined version. This went onto the market in 1926 as the "Divco", powered by a 4-cylinder Continental engine with Warner 4-speed transmission.
The first 25 Divcos were forward-control vans with a front-hinged door through which the driver could step ahead of the axle. Control from the running boards was also possible.
But development of such a specialized "Multi-Stop" vehicle was expensive. Among unexpected expenses were the design of heavier brakes, clutch and generating systems than most vehicles of the time required. New capitol was needed, and the company was reorganized in 1927 as the Divco Detroit Corporation.
In 1928 came the Model G which had a short hood and was available with van or open-sided bodies. The control was from the normal position, either sitting or standing or from either running board, using a tiller for steering. A later development was the model H. This model was the first Divco to have a drop frame with the walk-through aisle which became a basic Divco feature. Subsequent improvements took manufacture all the way through the Model "S" Divco by the mid-1930s.
Divco Detroit was hit hard by the depression, and in 1932 the company was purchased by Continental Motors, one of their largest suppliers. It was renamed "Continental-Divco Corporation."
In 1936 through a stock manipulation, Divco was divested from Continental Motors, and merged with the truck business of the Twin Coach Co. of Kent, Ohio, who were making a similar vehicle. Under direction of the Fageol family the merged companies and products were known as Divco-Twin until the Twin Coach name was dropped during WWII in 1944. After that the firm was simply known as the Divco Corporation.
In 1937 the Divco was completely redesigned with a welded all-steel van body and a snub-nosed hood which was used with virtually no change up to the end of production. A huge new plant was built on Hoover Road near Detroit to manufacture the first snub-noses which appeared in service in 1939. The doors were of the folding, semi-automatic type, and the power unit was still a 4-cylinder Continental. In 1940 the first insulated and refrigerated unit was built. But production was stopped so the plant could be used for war materials during WWII. After the war, the 1946 Divcos were basically similar to pre-war, and came in two wheelbases, the 100-3/4 inch Model UM and 127 inch model ULM. GVW were 9000 and 12,000 lbs. and engines were 4- and 6-cylinder Continentals. In the early postwar years production briefly reached 7000 annually, more than double the best pre-war figures. In 1954 refrigerated vans were offered as a regular production option, and the forward-control Dividend series made its debut in 1956. Continental 4- and 6-cylinder and Hercules 6-cylinder engines were standard in the 1950s, while in the 1960s 6-cylinder ohv Nash engines were used in addition, and there was also the option of a Detroit-Diesel 3-53N 3-cylinder 2-stroke diesel.
In 1957 Divco Corporation bought the Wayne Works, a school bus builder in Richmond, Indiana, and renamed itself, Divco-Wayne Corporation. Snub-nosed products remained about the same, but the firm put more emphasis on the larger forward control vehicle designed to tap into more delivery truck markets, including the growing wholesale delivery of dairy products. Dividend Series trucks were also modified with seats and windows from the Wayne Works to produce a Dividend Bus. But very few of these units were built between 1959 and 1961.
Starting in 1964 engine options were Ford F240 and F300 6-cylinder gasoline units, which eventually became standard for the Divco range. The snub-hood models were continued in several sizes and there was also the forward-control Dividend in three sizes, from 3000 to 9200 lbs. payload, made up to 1966.
The largest Divco ever made appeared in 1961 - this was a 6 ton refrigerated wholesale delivery model with Dividend chassis and cab, and a separately attached van body in 14-, 16- or 18-foot lengths.
In 1968, The Divco-Wayne Corp. was acquired by Boise-Cascade, Inc., and delivery truck production was spun off to Highway Products, Inc., a company using the old Twin Coach plant in Kent, Ohio to build trucks and buses. Highway Products immediately resold the Divco line to Trainsairco, later Correct Manufacturing, a family of businesses owned by Glenn Way, in Delaware, Ohio. Down a year to move production from Detroit to Delaware, the Divco assembly line reopened in 1969 producing far fewer trucks annually. The final models were the 300 and 200 series with 115 inch and 127inch wheelbases, and load capacities from 6000 to 10,000 lbs. The same Ford gasoline engines as in 1963 were available, with an optional 3-speed dual range automatic transmission. Diesels included Detroit, Caterpillar or Deutz. Chassis were also produced for other uses, including Divco Refuse trucks.
In addition to Divcos, Correct produced truck beds and Skyworker Cranes. Product liability suits against some of these in the 1980's and the resulting court battles forced the company into bankruptcy in 1985. The final Divco trucks were produced under the authority of the bankruptcy trustee in January, 1986, and the assets of the company were then liquidated. With no more trucks being produced, one by one the dealerships closed, until there was only one left. The last dealership in America was Tri-City Divco Sales in Rock Island, IL.
The final Divcos produced looked like the truck above. But today there is a growing interest in all models of Snub-Nosed delivery trucks and their ancestors. The Divco Club of America is the oldest and largest group of Divco enthusiasts, collecting, restoring, and operating Divcos for pleasure and business. Our library is stocked with Divco literature, manuals and advertising materials. We catalog parts sources to keep Divcos running and facilitate restoration. And we offer a number of fun Divco related products for members. A partial listing of some "Divco Stuff" is available by clicking HERE.
A more complete Divco history was written in 1997 by DCoA Members Dr. Robert Ebert and John S. Rienzo, Jr. Copies are now available directly from the Divco Club.